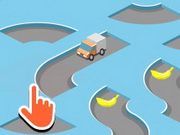 Bananadoh
(0)
---
Description :
bananadoh is an action puzzle featuring a truck that has lost its bananas. Rotate tiles in order to keep the truck on the road as it journeys through a colorful game world, and relish in the fruits of your high-score. bananadoh features a range of unlock-able tiles and pickups, and every level is procedurally generated ensuring a unique experience each time you play.
Keywords :
skill, puzzle, Pipe, Maze, kids, HTML5, highscore, Fruit, Driving, collecting
Control :
Tap to rotate tiles and guide the truck towards pickups to progress the board and score points.
Author :
atqu.in
---
Comments
Please login or register to post a comment